I hope this post finds you happy, well and hopefully sober (as most of you read this in the morning.)
So I'm milking the whole New Year thing for all that it's worth, and my theme for this weeks IBOT is a new style; not blog style. Nuh uh. Clothes style.
That's right, you guessed it. (And the title probably tipped you off) It's time for another the Many Styles of Jess: the New Year edition!
Now seeing as Darwin does not provide the most opportunity, shopping wise, these MSOJ (as they shall heneforth be known) are actually getting harder to do. But thankfully, a quick glance around the stores showed me that pretty much everything on offer could fall into clearly defined categories, and so I seized the opportunity, and ran with it.
But why try and explain it, when I can show you instead? So with no further ado…..
Spotty Jess
Now to be honest it was that bright orange spotted top that inspired this post. Mostly because I thought, 'who would wear that?'
Would you still like me if I admitted that, well, maybe I would?
Stripey Jess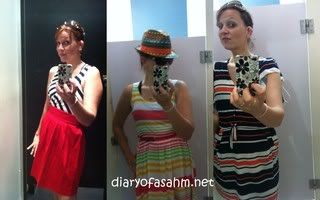 Having decided that Spots made me feel like Spotty Dog from Super Ted (anyone remember that show?), I thought I would give stripes a go. Apparently the rule of horizontal stripes is well and truly dead.
Having said that, I don't recommend wearing them when one is having a fat day, due to the chocolate pie devoured the night before.
Animal Print Jess 
Break out the leopard print underwear ladies, cause tribal is back, bringing with it so many fashion opportunities, I couldn't possibly photograph them all. Plus the jumpsuit assaulted both my lady parts and my selfesteem (see note on chocolate pie), and pretty much ruined the big cats for me.
I think I'll leave the native dress to the more adventurous, and stick to my own countries clothes of choice.
Summer Jess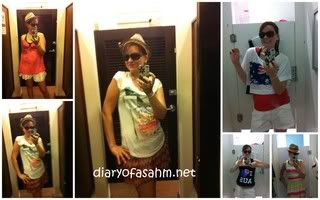 Now of course the shops are filled with summer clothes; why wouldn't they be? The shirts are skimpy, the shorts short, and I was secretly pleased to see that crochet had made a come back. It takes me back to my early teens, when crochet tops over sports bras were all the rage.
Of course now, I have no desire to show my bra, or my pie filled belly, so I guess crochet tops just make me old.
Also teen shops make me feel old; I'm sure they make the sizes smaller so all us old fogies become too depressed by the fact that we have apparently gone up two sizes, and leave the clothes for the younger, hotter generation. (Damn you chocolate pie!)
At least the Aussie tops are not bound to any generation.
Just Jess 

Believe it or not, I don't love taking photos of myself, and yet there is something incredibly freeing about doing this. Not only do I explore clothes I would never dream of, but taking the time on my own, to just be a little bit silly is incredibly therapeutic.
In trying to be something else, I actually come closer to being me.
And with that…
You all know I love a good vlog. And you know that when it comes to vlogging, I do not take it lightly.
These self imposed photo shoots leave me with multitudes of pics (and in this case video footage) that I would never post due to being particularly self conscious.
But I might put them in a video clip.
The Gag Reel 
What's your New Year Style?
Spots, Stripes, Animal, Summer or whatever conceals the chocolate pie?
Do jumpsuits attack your lady bits?
Who else misses Super Ted?
Linking this post with Fi from My Mummy Daze for the 52 week project