It started off, as an inspired idea. It always does. I had made this flower pillow for Ava last year, and at the time I stuffed it will stuffing and it was wonderful. This giant pillow that worked as a cushion to lie on for little people, or a great back support for big ones.
But after a number of bouts of gastro hit the fam, and the cushion had been washed more than once, it seemed only time to retire said stuffing and replace it with new stuff.
That was about six months ago.
Sadly, this lovely creation has been sitting stuffless on my living room floor; still loved as much as ever. Occassionally used as a blanket, and carried around the house more times than I can count. It was only fitting that it be refilled, and this time, I thought, in an effort to save money, I would use beans.
That was my first mistake.
The second was when, wandering around Target, I discovered 20% off beans, and saw that as a sign. Today was the day the flower would be filled.
Arriving home from Tar-gay, I enthusiastically, with a bucket load of faith and hope, decided to fill the flower straight away. That's what good mothers do right?
What I didn't realise was that I was about to embark on a revelational journey; learning so much more about the world than I ever thought possible.
Lesson the first:
Beans will always go everywhere. It is impossible to keep it clean
Apparently, it is a much better idea to fill your bean bags/giant flower fusion in the bathtub. The only problem is I don't have a bathtub. I stupidly thought the lounge would be fine, but sadly, I was wrong.
>
Lesson the second:
No matter what size hole you cut, it will be silmultaneously too big and small
Either too many beans will come out at once, or not enough. I'm sure they are designed just to teach us patience
>
Lesson the Third:
Little people are inadequately height gifted. 
I had vague recollections that filling beans worked best when there were two people doing it. Unfortunately the second person needs to be a lot taller.
>
Lesson the Fourth:
When you need something, you won't be able to find it.
I stupidly thought the mess in my house could be easily contained by a dust pan and brush.
This may have indeed been possible. If, in fact, I could find the dustpan and brush…..
getting the minions children to fill containers with stray beans. Oddly Ava thought it was great fun
Lesson the Fifth:

Darwin is hot. All the time. Turning off the fans does not help this.
Filling a bean bag with beans is not going to work, however, with the fan on and turning it off will cause sweat to pour out of ever pore in your skin, and make the beans attracted to you in a way that no member of the opposite sex has ever been.
I'm so hot right now. Literally.
Lesson the Sixth:
Kids will find joy in anything. Including Cleaning
Apparently sweeping is fun.
As is finding the shape of a dog in a random collection of white polystyrene balls.
Lesson the Seventh:
Murphy is out to get you.
Never before, have I needed a vacuum cleaner as dire as I did this day. So of course the bag was full, and then tore everywhere, whilst the machine itself overheated. Crying in this situation does not help either, as it merely attracts the damage. The only option is to consider sweeping it under the carpet.
Lesson the Eighth
At the end of the day just laugh. 
Despite the mess and the frustration, there's no point getting upset. Particularly as the minute you sit down on your finally bean free couch, you will probably be attacked by a random item of doll's clothing.
#truestory
bonus lesson! Despite the fact that ten days after the event you will still have beans everywhere, you won't regret the decision. That flower cushion is the most comfortable thing to sit, sleep and even do other things that are inappropriate to ever tell your small child, on.
Linking with Rhianna for Things I Know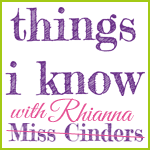 When was the last time you filled something with beans? Have you ever had your house rid of them since then?